Home |
Fun Cinco De Mayo Decorations
Fun Cinco De Mayo Decorations
Cinco de Mayo is a festive event both in Mexico and the U.S. It commemorates the victory of the Mexican army over French forces on May 5th, 1862. Today,
Cinco de Mayo also shows appreciation for Mexican-American culture. Parties and other festivities are held to bring friends and family together to eat, drink and have fun. If you want to join in the fun, here are some fun Cinco de Mayo Decoration Ideas. 
Invitations
You can't have a party without a guest list. While planning your Cinco De Mayo event, don't forget to pick up some party invitations. Choose an invitation design that is simple and easy to read yet festive and captivating. Look for a Mexican inspired design or pattern, especially if you are going all out with a themed Cinco de Mayo party!
How to decorate for Cinco de Mayo
Whether you are having a party or just a family dinner for Cinco de Mayo, make the occasion lively with party decorations. You can choose whether you want to have a lavishly decorated party with colorful décor everywhere, or try a minimalist approach by adding a few themed items here and there. What you do need are some relatively basic décor items to suit the spirit of Cinco de Mayo and Mexican culture. Some of these essential decorations include: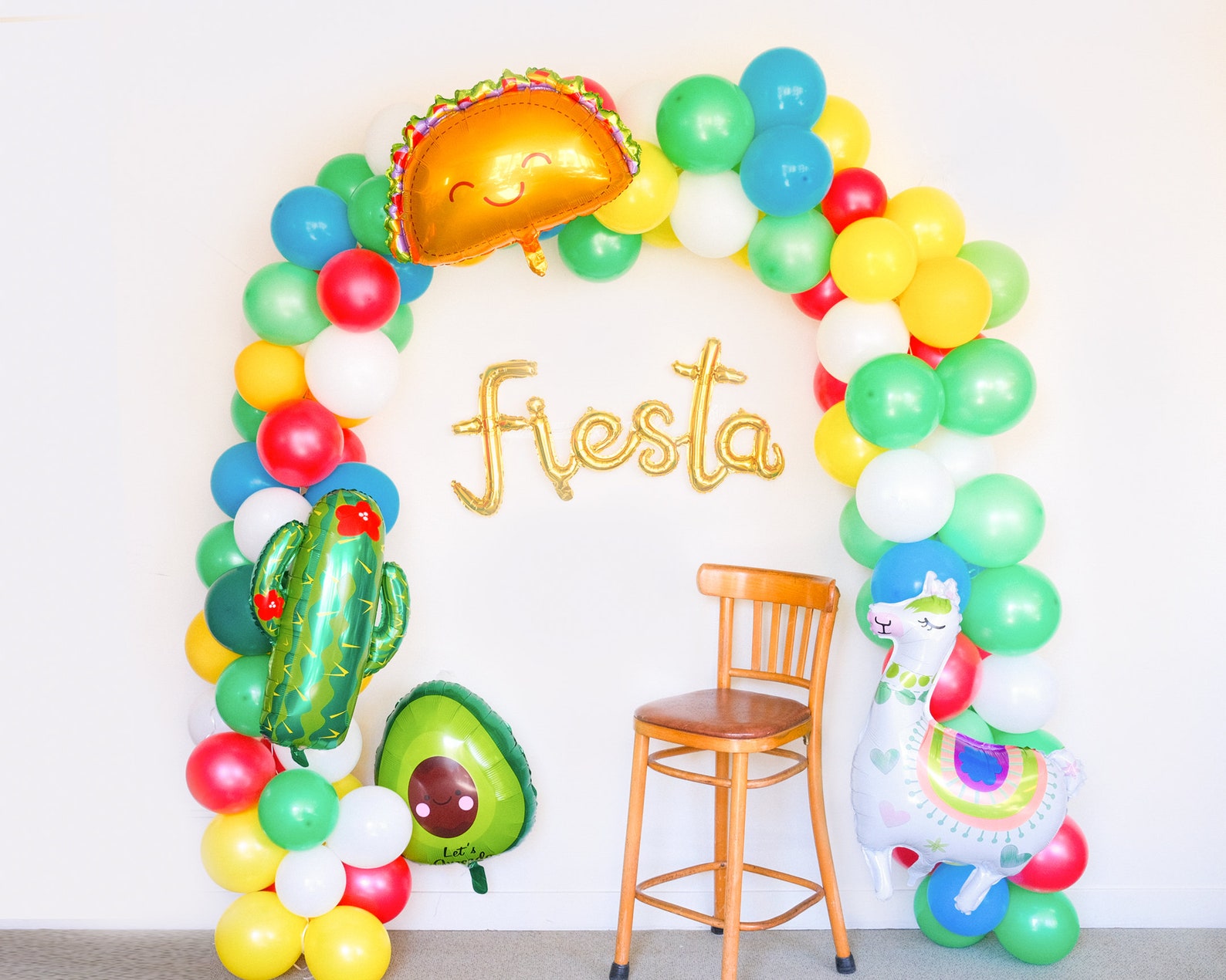 Balloons
Balloons enhance your party ambience especially for themed parties. For Cinco De Mayo, Mexican themed balloons are the perfect addition to spruce up your space. What are the best balloon ideas? You can go for colorful balloons and create a balloon arc or try some helium balloons in fun shapes which depict aspects of Mexican and Cinco de Mayo themes. These cute balloons are definitely a bonus for your party décor. 

These cute balloons are also a bonus for your party décor to add extra diversity in your theme design.  You can also purchase several in each design if you are decorating a large space. Our top pick balloons are also mylar (foil) and are self-sealing. They are easy to inflate and tend to hold out longer than regular latex balloons.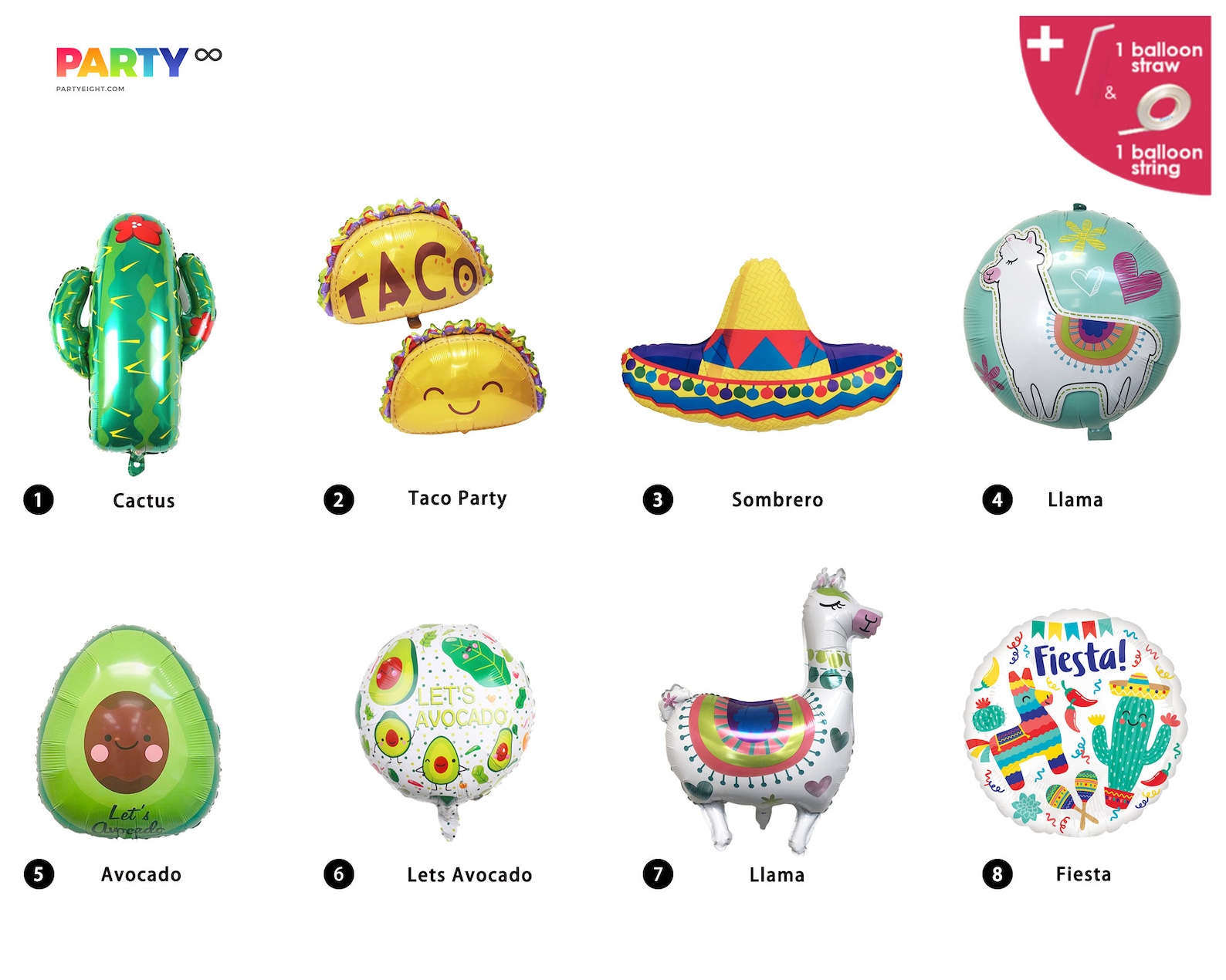 You can't go wrong with a matching set of balloons such as our fiesta balloon pack.  They can be used for any Mexican party theme including Cinco de Mayo! You can purchase each giant balloon separately or get the whole matching set to make it easier for decorating!
Table cloth
Another must have item to add to your party décor is a themed table cloth. If you prefer something that is no fuss or even disposable, a plastic table cloth  is ideal for this purpose. It will also protect your table top and make it easier to clean up when the party's over. However, if you want a more authentic experience or something that can be used for other events, try a woven cloth table cloth for a chic and sophisticated look. You can easily toss your cloth table cloth in the wash to clean up. 
Photo courtesy Pinterest
Banner
Cloth or plastic banners are the norm, but have you ever tried a balloon banner? Balloon banners make any event pop with more depth, colour and has a 3D aesthetic. We recommend the Cinco De Mayo balloon banner to add to the festive occasion.  Putting a banner up on your wall will add more colour and diversity to your party venue and be a great backdrop for photos!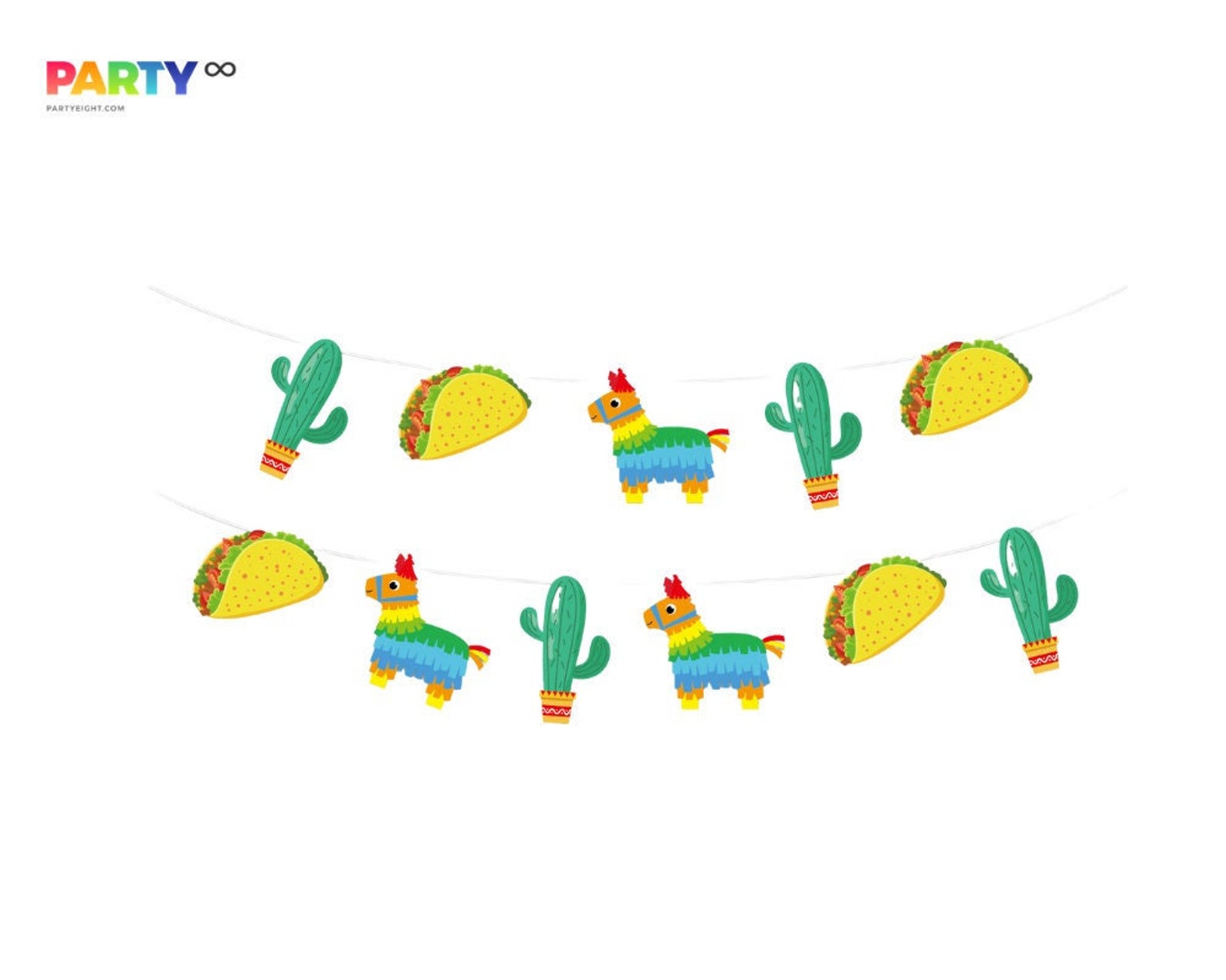 Table Center Piece
After you've set your table, maybe it seems like something is missing. You will probably need a centerpiece to bring the table together. Centerpieces are also very eye catching and can even spark conversations. You can try to make the décor even more special by handcrafting your own centerpiece. 
If you aren't the artsy type, or don't have much time to experiment, you can easily achieve the same effect with a colorful bouquet of flowers or quirky table top decorations. Fun Mexican themed centerpiece sets like this one are made from sturdy cardboard and biodegradable materials. They will add color to your tabletop and can be used for any festive Mexican inspired event. 
Photo courtesy Pinterest
Party favors
Treat your guests to cute party favors with a Mexican flair. Greet guests at the entrance to hand out some party hats and/or fiesta cups! Party favors can also include festive beads, ribbons or straws. They may be small items, but they can be kept as a keepsake or be fun to take photos with to document the fun and comradery that parties generally embody. You can also take things up a notch by presenting a classic pinata, especially if you are having kids on the guest list! 
Party favor cutouts such as the Let's Fiesta 30 piece set is a versatile option because it can also be used for decoration in addition to being souvenirs for guests.  If you are on a tight budget and need to get a fair amount of party favors then this a steal of a deal. 
Photo courtesy Unsplash
What about Food?
The biggest attraction when hosting a party is food and drinks. For Cinco de Mayo, it's a great opportunity to delve into Mexican cuisine. Mexican food is delicious and full of flavor. Your guests will certainly enjoy tacos, quesadillas, nachos, tortillas and any other enticing and spicy Mexican dish.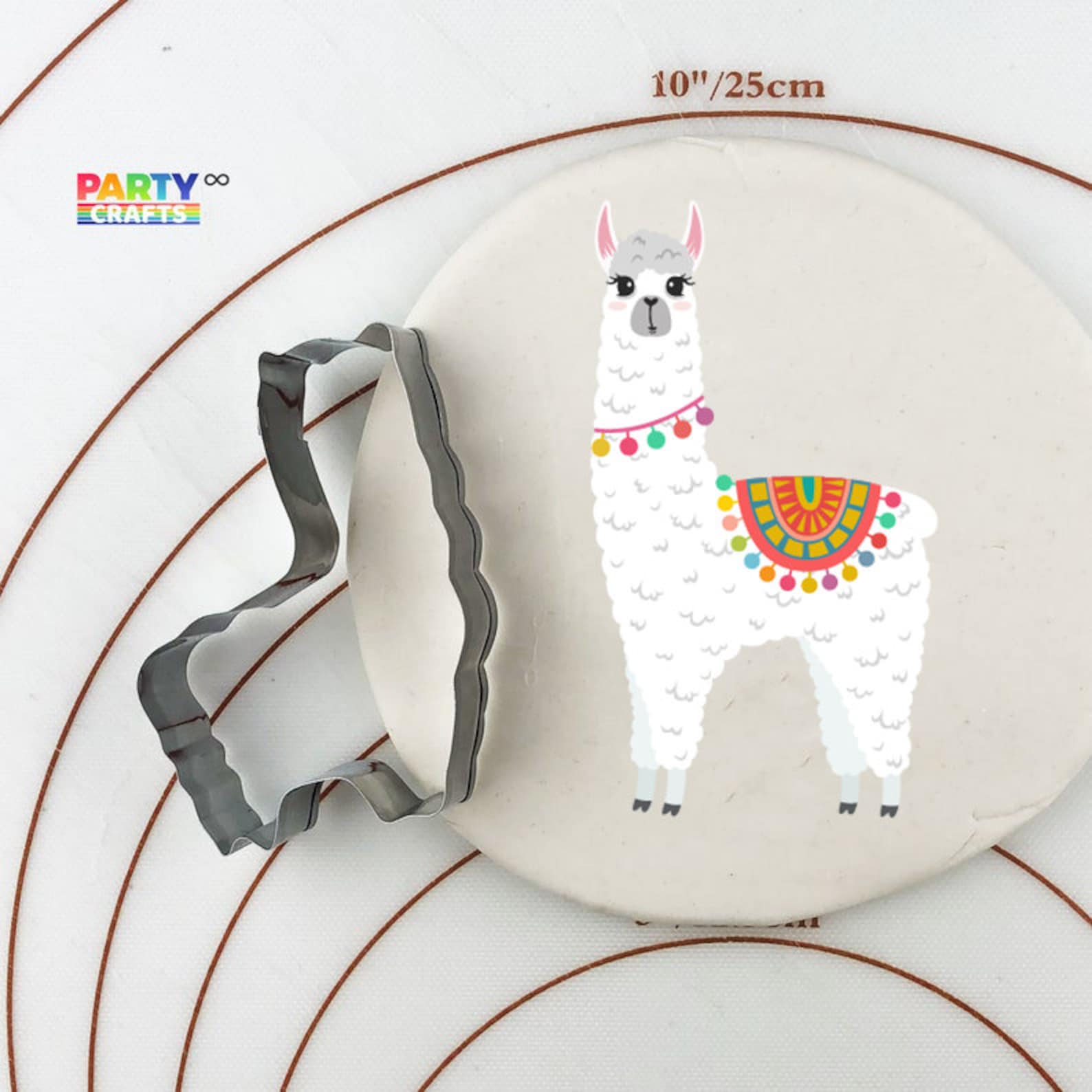 You can try cooking these dishes yourself if you love cooking and trying new recipes. Alternatively, you can order from a reliable food drop service such as Uber Eats, Grub Hub or Door Dash to name a few. You can peruse the Mexican restaurants in your area that these services deliver from and put together a sound and delicious menu. Using a food drop service also saves you time from going to restaurant yourself, especially if you have to pick up items from several different places and locations. 
 Photo courtesy Unsplash
Summary
Even though the global pandemic is still affecting the globe, Cinco de Mayo can still be celebrated in your own way. The street parades, bar crawls and other public events may not be the same capacity but you can certainly enjoy the day at home. Plan a simple party for your family and close friends to partake in food, drink and create wonderful memories, even in such hard, uncertain times. Just remember to keep up safety protocols and advise guests accordingly. 
Brighten up your lunch or dinner get together with cute and vibrant party décor from Party Eight. You'll also enjoy affordable prices and even some discounts! Have a safe and happy Cinco De Mayo fiesta!