Home |
How to Throw a Two Groovy Birthday Party
How to Throw a Two Groovy Birthday Party
There's no question that a good theme can take a party from average to wildly creative, fun and amazing. One of the hardest parts about planning a party, though, is coming up with the perfect theme for your little one. Two groovy theme birthday party is one of the most popular right now.
Here is everything you need to create the grooviest scene from decorations, invitation cards, costumes and more!
Two Groovy Decorations
Finding decorations and supplies for your Two Groovy Party is easy! You can create DIY decor to save a little money or buy party supplies from your local or online stores. Decorating for a two groovy party is all about bold colors and expressing yourself through signs like the peace sign or the popular smiley face. Choose items like tie-dye, daisies, hippie fringed items, love beads, and beaded curtains.
Groovy Banner and Colorful Balloon Garlands
Bring on the groovy vibes with
PartyEight
2 groovy birthday banner and jumbo daisy balloon! These 38-inch daisies are the perfect way to celebrate a two-groovy birthday. You can also add this
Sunflower Balloon
to add a girly touch to your little one's groovy birthday party.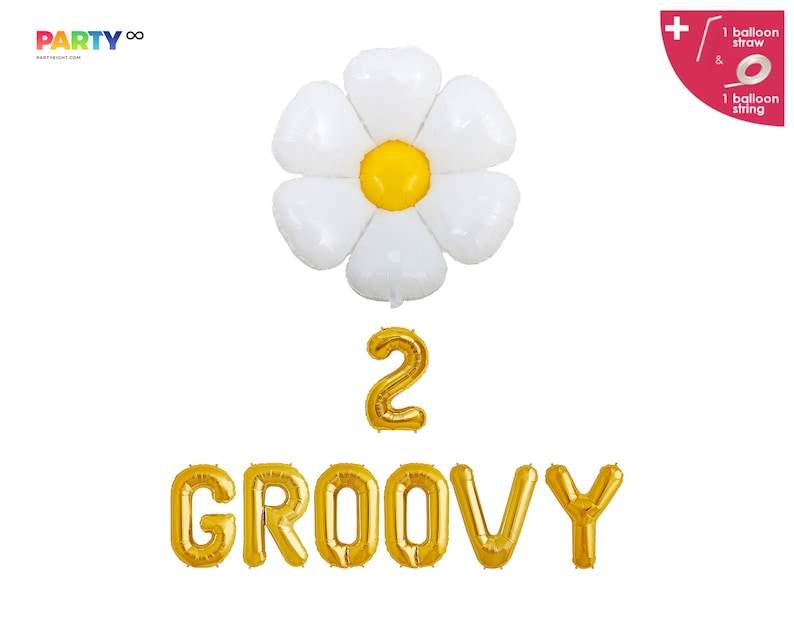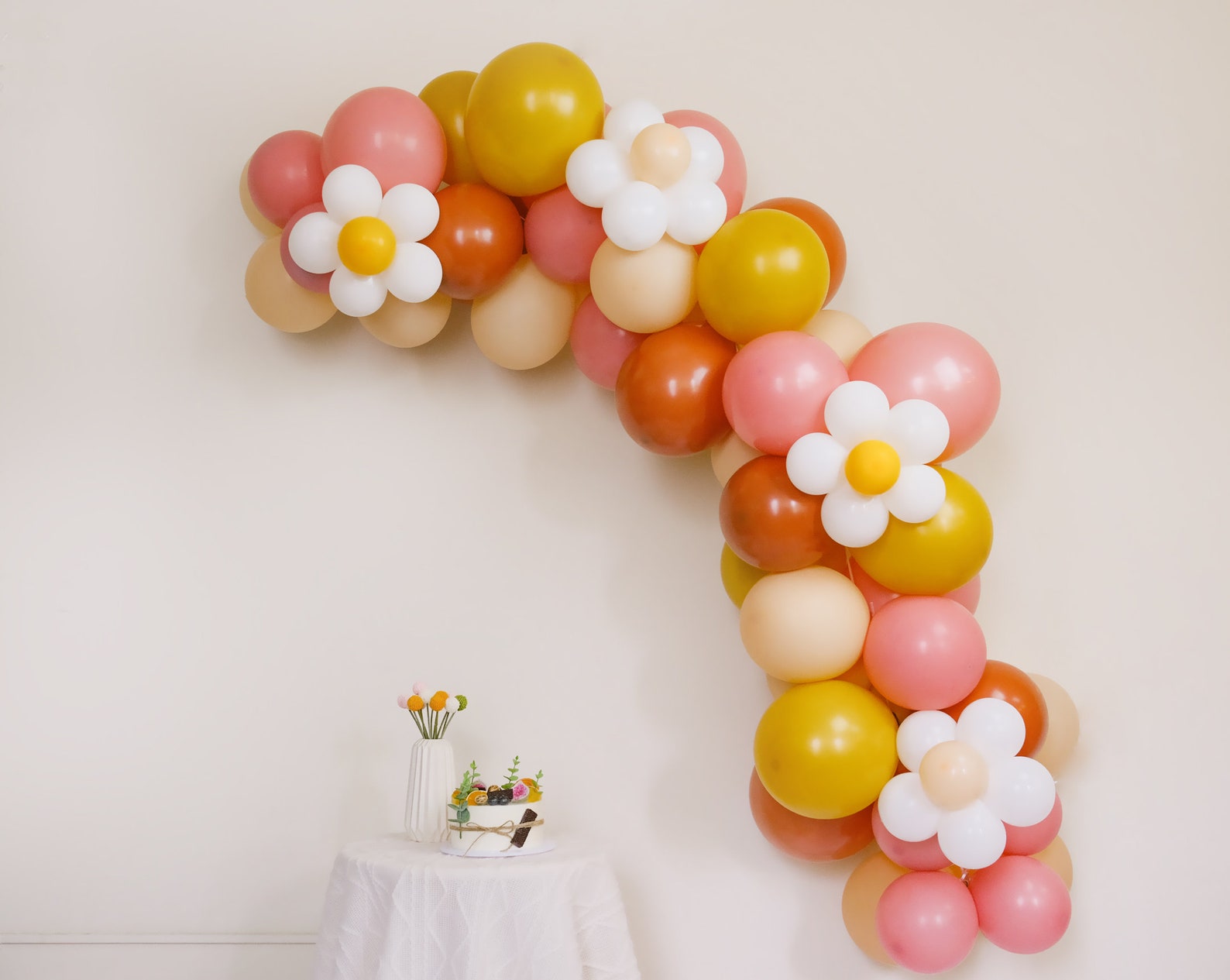 DIY Giant Paper flowers
These are a simple addition to the two groovy party decors. They make the best photo props and photo backdrops. It would be lovely to buy them pre-made – but are even lovelier when they are handmade! You can choose the styles, colors, and create cool color combinations when you make them yourself. Check out this
15 Giant Paper Flower Tutorial for Photo Display and additional backdrops.
Trippy-looking Decorations
Another way to add the groovy vibe to your two groovy birthday themes is to incorporate these iconic symbols in some ways; rainbows, Volkswagon, peace signs and wildflowers.
Another easy way to incorporate these elements is in your centerpieces. For example, using mason jars of flowers and adding printable peace signs and VWs into these to create a groovy centerpiece. I also love getting a little quirky and fun. Add some colorful slinkies down the middle of the table for an unexpected and fun element.
Cup Cake Toppers
Two year old kiddos are so groovy and they deserve a super cute cake topper for such a big birthday. Adorned with iconic groovy symbols like the peace sign, butterfly, rainbows, smiley faces, volkswagons and musical instruments like ukulele and tambourine. You can add personalize groovy font cake topper with the name of the birthday boy or girl.
Two Groovy Party Invitation
When it comes to party details, include the essentials and basic information such as date, time, and location. Use the guide below as a checklist to make sure you have all the party information covered.
· Name
· Date
· Time
· Location
· Theme
· Dress code
· Contact details
Here are some Groovy party invitation ideas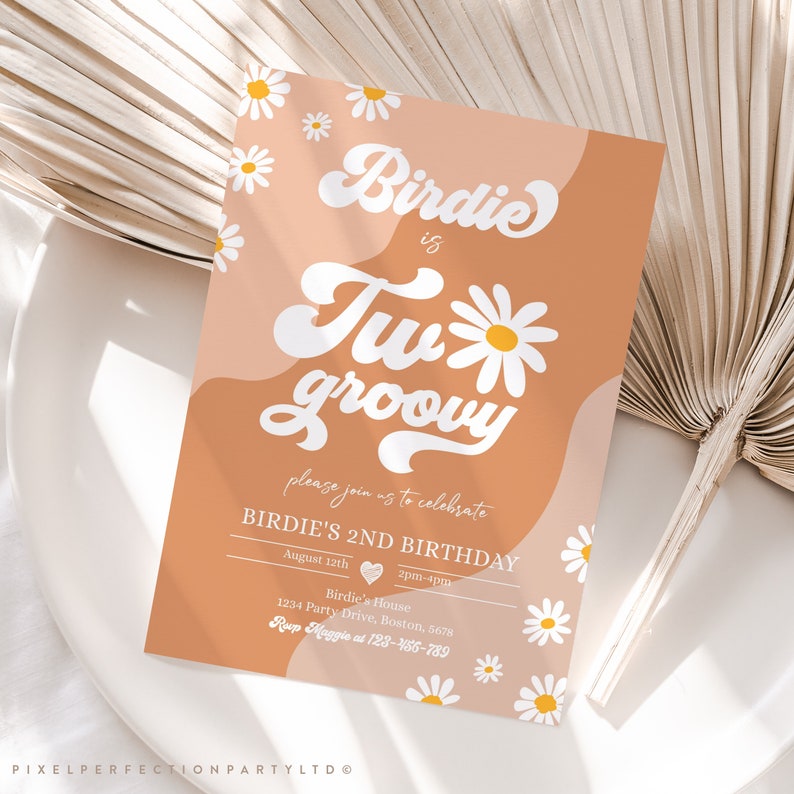 Two Groovy Party Favors Ideas
In the ultimate two groovy birthday party, the lava lamp is a must. But instead of buying a lava lamp vibe that adults and children loved - why not create a DIY lava lamp party favors? These would be a fun craft to send guests home. Check out this
DIY Lava Lamp Party Favors tutorial
.